https://recorefitness.com/store/recore-postpartum-program
Want to share your link beyond Facebook and Twitter?(ie: email, blog posts, etc)


Copied!
ReCORE Online Program
Regain your core/pelvic floor strength, stiffness and control postpartum.
FREE
Shipping on domestic orders over $30.00!
Program Details
The core/pelvic floor muscles have been stretched for nine months. It is important to regain core control, strength and stiffness before returning to running, jumping or lifting heavy. This program is recommended for early postpartum women or those that have been inactive for a while. Important for those with diastasis recti as well. If you think you need more customized help, see in person training options here.
HOW TO ACCESS PROGRAM: Once purchase is made, you may log in to your account with username and password used to create your account. Click on dashboard then programs. and access your program immediately. Online program purchases cannot be refunded.
Program Focus
Regain inner, outer and full body core control, strength and function

All postpartum women

Inactive women

Also helpful for those with diastasis recti, mild prolapse, c-section and stress incontinence
Program Includes
PDF -ReCORE Workout Guide/Assessment

VIDEO -Intro to Ab Sets

VIDEO -Drop Test Video

VIDEO -Check for Diastasis Recti

VIDEOS -ReCORE Weeks 1, 2, 3, 4, 5 & 6
What is Covered?
Week 1
Learn the basic of inner core activation, breathing and core control with upper and lower body movements. Will use theraband and small ball or pillow
Week 2
Add more resistance to further challenge core control with theraband and gym ball.
Week 3
Slightly increase level of difficulty with higher pressure core exercises. Miniband and small ball or pillow used.
Week 4
Continue to challenge duration of core and pelvic control. Gym ball will be used.
Week 5
Progress core control exercises along with core stability. Gym ball used.
Week 6
More full body core exercises, in all planes of motion, challenging core control and improving core strength and function. Gym ball and weights used
Why ReCORE?
Not just for women with Diastasis Recti.
Celeste Goodson
ReCore Fitness Founder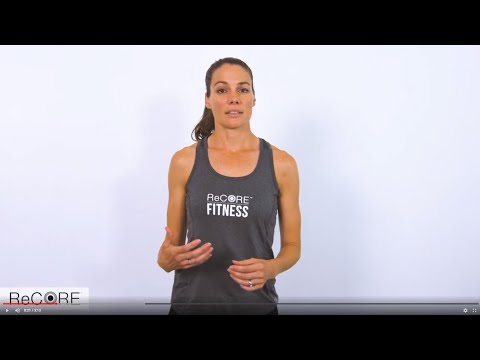 You can go back to doing what you love even after diastasis recti, incontinence, and prolapse issues.
Frequently Asked Questions
Women who go through childbirth (diastasis or not) all have stretched abdominal and pelvic floor muscles that can benefit from proper core reconditioning to regain their core strength, control and ability to generate stiffness. Rebuilding core strength is about improving the ability to create force, resist force and absorb force. Doing basic breathing and TvA exercises are a good start but needs to be progressive. With specific programming, recovery can go smoother and faster and prep the body for heavy lifting and impact (running)
Top priority is doing ReCORE. You can do just the ReCORE program! The FITsplint is recommended if within 3 months postpartum and diastasis larger than 2 fingerwidths for abdominal support to the stretched tissue (see research on our Learn page).
General rule of thumb is 3 weeks postpartum (vaginal) and 4-6 weeks postpartum (c-section) if you can sit and walk pain free with doctors permission. We do have a letter you can send your OBGYN or midwife. While you do not have to start this early, you can do ReCORE when you feel mentally ready and that happens to be a few weeks/months later, that is fine! Even if you didn't hear about ReCORE and you are 1-2 years postpartum, it is not too late to recondition the inner/outer core!
The focus of ReCORE and the FITsplint is to provide the best environment to recondition the core to the best of its ability (not promise a diastasis fix) Often times, postpartum programs stick to basic TVA exercises and do not prepare moms back to sports or lifting, running and jumping.
Yes! Even though there may not be a diastasis..moms still have abdominal muscles that have stretched and weakened. By conditioning the inner core progressively, moms can regain their core strength, control and function again.
Difficulty of weight/bands will vary among users, but listed below is a general idea Medium Therabands, Light, medium or heavy mini-band, Weights 8-20 lbs (10-15 lbs average), Gym ball and Small (9") ball (or thick pillow).
Yes, this is a great program to do even if you have a hernia (given it is not painful and cleared to exercise by a physician) The exercises help strengthen the muscles and tissue, help teach how to distribute intra- abdominal pressure well and can help reduce chances of hernia getting worse. It is recommended to stop if hernia pain develops
We recommend doing the exercises four days a week for about 30 minutes each day (can be split up if needed due to baby demands )
While the ReCORE download is great for those with mild prolapse, it can also depend on your level of symptoms. If you are dealing with prolapse we recommend seeing a pelvic PT and working one on one with our training sessions or consult for specific guidance.  Progressing inner/outer core strength is important for women with prolapse to do, however each person may need to progress at different rates.
It depends! If within 3 months postpartum, for non-complicated deliveries we recommend waiting till: 1) about 7-8 weeks post, have done at least had 3 weeks of the ReCORE program or you have seen pelvic pt Returning to run should be VERY gradual. Start by walking for a few weeks while doing ReCORE, then add in a few times a week doing walking hill repeats (fast up, easy down), running hill repeats (medium fast up, easy down) and then short run/walk intervals to slowly get back to just running. 2) If you are dealing with more severe incontinence or prolapse symptoms, we recommend seeing a pelvic PT, waiting at least 3 months and working with one of our coaches on a specific return to run program. If you started ReCORE and you have already been running and you're only dealing with Diastasis Recti or mild stress incontinence issues, you can continue to run as you strengthen with ReCORE and symptoms improve.
Customer Reviews
Your review
amazing program - well worth the price!
Show more
Your review
Celeste - you've been helping me for over a year. I did a custom PreCORE, online ReCORE and now online ReCORE 2. I stopped doing ReCORE after I healed and then got some hip injuries. Within a week of using ReCORE 2 and the moboboard, I started feeling 100% with running. Nothing else helped me get back to running as much as your programs. Thank you for all your help!
Show more
Your review
As far as this program, I would,( and will) strongly recommend it to anybody! I know it's helped me so much, and I know lots of moms like me who want lots o' kids, who would really benefit from this program. (mom of 9! 13 months post-partum)
Show more
Your review
I can't say enough great things about the ReCORE online coaching program. After baby #2, I was discouraged, feeling broken, and diagnosed with mild ab separation and bladder prolapse - such that the doctors/physical therapists said I was "normal/fine" but I did not feel like myself nor could I engage in the biking, HIIT, running and strength training that I used to love. ReCORE was extremely effective and I was so encouraged seeing improvement week by week. Celeste provided exercises that challenged me each week and were very efficient in engaging and activating my dormant core. After a couple of weeks I felt like my core "woke up" and I could feel improvement in mid daily activities - lifting my kids, squatting /sitting, and doing house chores became so much easier! I was also able to return to running and feel extremely stable, supported, and strong. My frequent urge and difficulty emptying my bladder went away and my abs are now very close to being closed. This program removed much of my anxiety around diastasis recti and prolapse and made such a difference in my daily life. I cant thanks Celeste enough.
Show more
Your review
I have definitely improved the stress incontinence issue, it was slow but I really noticed a difference there by week 4. My pants definitely fit differently, I had to go down a size and I really need a new swimsuit as the bottoms don't stay up in the water! Found that out on vacation..I loved the whole program, it felt challenging but still manageable. Easy to keep doing..and work in to my regular routine which was key for me!
Show more
Your review
Celeste was great to work with. She was able to give me clear directions and video demonstrations on specific exercises that would help close my diastasis recti. She was encouraging to me and gave me support to help me stay motivated. I made huge improvements on my diastasis recti and also lost 4" off my waistline. I would highly recommend her [ReCORE] program.
Show more
Your review
I feel so much stronger after completing the ReCORE program and have seen incredible progress on closing my diastasis. I didn't know whether a weekly regimen via email would provide enough support, but any questions I had were answered immediately. It was the perfect workout regimen for the early weeks of having a new baby and being able to start and stop a workout throughout the course of the day was the only way to fit it all in.
Show more
Your review
This program was incredible. I knew I wanted to do a custom Recore after my success with Precore. I enjoyed the progression each week and seeing myself improve and also feel stronger in swimming/biking/running. Even though I had no pelvic floor issues, I can't recommend this program enough. It's not just for someone with issues but people who want to come back and do it smartly.....I went back to my PF PT last week and she said I have no issues and my DR is healed (just a small hernia). She had no concerns and was very very impressed. I told her again about your program and she will recommend it to other women!!! ...The last week was amazing! I keep saying it but I feel soo much stronger. I'm 13.5 weeks PP and last week I ran 8.3 miles at 7:40 pace (with warm up and cool down) and I rode my bike for 2 hours. (triathlete)
Show more
Your review
Looking back to January 2018, I'm so glad that I learned about you via Alysia Montana on Instagram. During my pregnancy, I gained the right type of core and pelvic floor strength that helped me with labor and delivery. My midwife remarked how strong my pelvic muscles were and asked me what I had done to prep so well…Of course, I told her about you and recommended that every patient of hers should work with you! Postpartum, I can't believe 6 weeks resulted in such progress! With ReCORE in my abdominal pocket, I can't wait to slowly et back to running and maybe train for a race in 2019!
Show more
Your review
I have loved the ReCORE program. I can tell a huge difference and I feel stronger and slimmer. I was able to do the workouts at least 5 times a week, each week and felt that they were challenging. The FITsplint was amazing. I felt a difference right away. The program was laid out perfectly. Thank you so much for this program! (Mom of 4, TX)
Show more